WHY ARE VINTAGE SUITCASES SO COOL?
At the beginning of the 20th century, suitcases were an art form in and of themselves and many from the 1930s and 1940s were designed and produced regionally similar to how a cobbler or tailor would fit and create bespoke products completely unique to the owner. Suitcases were adorned with little touches like monograms, patterns, elaborate latching systems and handles that made cases as unique as the individual buying them. Many regional name companies appeared and were marked with branding like Airheart, Skyway and even OskKosh. Its a fact that the US made the most interesting suitcases and were rivaled only by a few examples from the UK  in terms of quality and style.
Suitcases made domestically were formed from wood and wrapped in beautiful and functional tweed and other materials. Opening a case, you can sometimes even catch a glimpse of era long past from newspaper clippings that were commonly used as a buffer between the wood interior and the plush fabric linings. American craftsmen prided themselves on the quality of their luggage and it shows that they are just as durable and beautiful today as they were 80 years ago. Suitcases from this era were made for the more affluent class who could afford to go on long trips and needed to bring entire wardrobes that could handle travel on trains, planes, automobile luggage racks and even steamships. Steamer Trunks were even available in much smaller quantities(making them much more rare) for travelers who would spend months globetrotting to amazing places. It is for this reason, we prefer to carefully leave stickers from places like Cuba and Egypt intact whenever we recondition them.
It wasn't until air travel became more available in the 1960s when companies like Samsonite and Taperlite emerged as the primary source of suitcase providers. They created a standardized style guided by the need for lighter and stronger suitcases that fit with travel needs of the time. Trunks were replaced by smaller suitcases that could meet the size and weight requirements of of shorter trips via air and rail. In the 1970's suitcases manufacturers made their way to plastics and fabric forms and while some look really cool in their own right, in our eyes, they lost that unique handmade style and dapper artisan qualities of their predecessors.
DOES MY HIFICASE COME WITH A WARRANTY?
Yes. We are happy to keep your music investment playing for years to come. Typically we can take care of most issues and cover parts/labor within the first year of use. Buyer will be responsible for any applicable shipping fees required to send the case to our workshop and back.
HELP I LOST/BROKE MY BATTERY CHARGER!!!
You can order a universal replacement charger here for all cases made since 2016. For all others please contact me for info on finding the right charger for your case.
WHAT IF MY CASE IS MORE THAN A YEAR OLD?
Beyond the initial 12 month timeframe a small fee may be charged for additional repairs/cost of parts. Most repairs cost $40 to $100 in parts and labor. Please note damage to vintage speakers may cost more to replace.
HOW long Do the batteries last?
We typically see 10+ hours of on a single charge. Time of use may very dramatically from 8 hours to 40 hours depending on volume of playback and use of the USB phone charger.
How do I charge the battery? UPDATED 9/1/2017
Lithium Ion Battery (2016 Models and newer)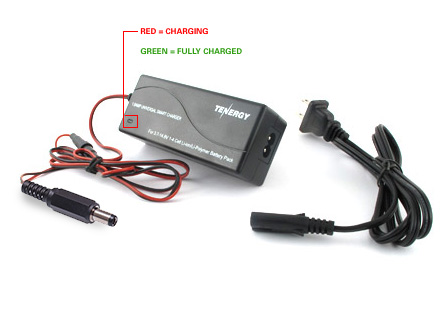 We currently use Lithium Ion rechargeable batteries for our portable speakers. The battery charger has two light indicators (Red = Charging, Green = Charged). Typical charge time is 5 hours or less. You may leave your charger plugged in for extended periods, the charger has circuitry built in to maintain battery health and safety.  Our batteries and battery chargers are manufactured to strict specifications by Tenergy (an industry leader in Lithium Ion battery manufacturing). Unlike some competitors who use lithium polymer packs made to lesser quality specifications, we use high quality18650 li-ion cells and quality voltage protection circuitry. Please always use our supplied Tenergy battery charger when charging your HiFi Case. Replacement chargers can be ordered by emailing us at contact@thehificase.com
SLA (lawn mower batteries (2016 and earlier models)
Battery powered cases come with a battery charger built inside. We use 12V SLA batteries (like mini car batteries) for their durability. All cases come with a Smart 3 stage battery charger built to recharge the battery in 8 hours. 99% of all issues stem from dead batteries so we highly recommend leaving your case plugged in and charging whenever possible to extend the overall battery life. Leaving your case plugged in to a wall whenever possible will keep the battery from naturally discharging overtime and save from battery replacement costs down the line. Batteries may need to be replaced if they go extended periods of time uncharged.
HOW DO I REPLACE THE BATTERY IF IT GOES BAD?
We offer free battery replacement within the first year of purchase. After the first year we offer a battery replacement service of $50 plus any shipping costs. This covers the cost to recycle the SLA battery and replace it with a new fresh battery.
WHATS THE RANGE ON THE BLUETOOTH?
We use the latest bluetooth technology for all our cases. Bluetooth 4.0 Apt-X is rated for use up to 30 feet away line of sight. A variety of factors may decrease or increase this range such as walls, other bluetooth devices connected to your device, etc… Bluetooth appears to work best with smartphones in our experience.
CAN I CONNECT TO MULTIPLE BLUETOOTH CASES AT ONCE?
Yes but not really from your phone without the help of an additional bluetooth transmitter but I haven't found one that actually does the job well. iPhone and Android phones strictly do not allow you to stream music to more than one device at a time. That said. if you are streaming from a MAC you can download this great app called Airfoil. This will actually connect to multiple bluetooth speakers and wifi speakers like Chromecast and Apple Airplay. We use chromecast audio receivers and believe they are the best bang for your buck so long as you have a good wifi router at home.
I Think my HiFI Case is broken, what should I do?
Shoot us an email at contact@thehificase.com with "Support" in the title. We promise we don't bite 🙂
COOKIES and GOOGLE ANALYTICS
We use cookies to analyse our traffic. We also share information about your use of our site with our analytics partners (see google analytics) who may combine it with other information you've provided to them or they've collected from your use of their services